This past October, The Harbor Island Grand Foyer of the Sheraton San Diego Hotel & Marina was transformed into a bazaar of hand-made, mouth-watering Greek sweets, one-of-a-kind finds and cheerful entertainment. There were over 320 people in attendance, socializing with old and new friends, enjoying the shopping opportunities, a live auction of unique gifts and a chance to win the Konstantino Treasures bracelet valued over at $2,800.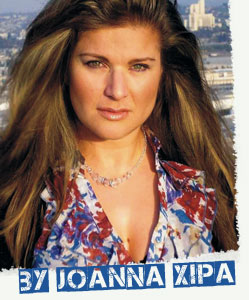 They were there to celebrate a day of philanthropy, fine wine, fine food, fashion and inspiration! The ladies at the Philoptochos Society "Anthousa" in San Diego, CA, were the creators of this marvelous event. Their namesake, Anthousa, was the mother of St. John Chrysostom. She was widowed at an early age and devoted herself to the service of God, Christ, and Church. Her love for Christ led her to become one of the first ladies of Antioch to organize the early Christian philanthropies. The Anthousa Chapter of St. Spyridon devotes itself to similar philanthropies.
The ceremonies presided in the ballroom listening to the inspiring words and honoring the philanthropic contributions of four outstanding San Diegans chosen to receive the 2010 Anthousa Award, the chapter's highest honor. The winners were Mrs. Jan Hicks Manos of St. Gregory of Nyssa Greek Orthodox Church, Mr. George Marinos of St. Spyridon Greek Orthodox Church, Mrs. Jeanette Rigopoulos of Sts Constantine & Helen Greek Orthodox Church, and Dr. Marianne McDonald, a Civic Recipient. The award sculpture itself is the Nike of Samothrace, symbolic of the spirit of victory, was commissioned this year to a local artist Catherine Yermanos.
The afternoon also included an amazing fashion show, with couture by famous names from around the world, but delighted to see Greek-American designers featured like the highly, award winning James Galanos, who's work is characterized by exacting craftsmanship, particularly in the extensive use of hand beading, full, loose dresses and chiffon coats over simple sheaths, and extensive use of silk fabrics. Cypriot-born designer George Georgiou, was also featured at the show. The San Francisco apparel entrepreneur with a world-wide chain of boutiques prides his collection focusing on the feminine figure, with European-inspired style reflecting up-to-date color trends, fabrics, and contemporary styling, while providing beautiful designer clothing at ready-to-wear prices.
The generosity of their guests and contributors supported their beneficiaries: The Armed Services YMCA, The Children's Foundation of America and the Philoptochos ministries so that they may continue to perform their best during this challenging economic era. The first Philoptochos (meaning friend of those in need) was organized in New York City in 1902. Today's Philoptochos is a national non-profit organization officially chartered in 1931, comprised of approximately 480 chapters and 28,000 members. It is the largest Christian women's charitable organization in the western hemisphere.